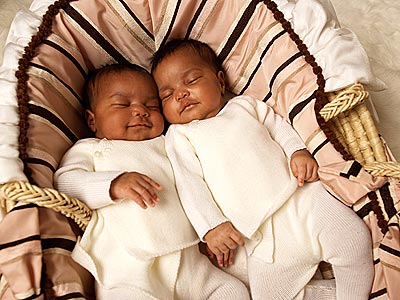 If you find
How To Finally Stop An Infidel WIfe
interesting, then you might enjoy this post
Maybe you or your wife or someone you know has been longing for twins then I should deem it fit to share the lastest research about how to raise the chance of concieving twins.
I know so some people who have phobia for twins yet to some other people, having twins is like having a room filled with diamonds ( their greatest goal is to be called daddy twin)
Here are some of the things to keep in mind when it comes to desiring to concieve twins.
"The older you are, the more likely you are to have twin. If you are around 40yrs, your chance is substantially higher around 7%. At 45, if you can get pregnant, the odd are around 17%." according to wikihow.com
The woman who desires twin is advised to eat more of cow liver in order to derive an Insulin-like Growth factor from it.
Heredity places a vital role in this issue. If a woman has a twin in her family from mother, research has shown that her chance is 4x.
African women have more twin tendency followed by European followed by Hispanic followed by Asian.
African women with high in-take of yam and cassava are closer to concieving twins than those with less in-take.
A woman craving for twin must free herself from BCP as earlier as possible.
When giving birth to twins, agile women with healthy weight gain have better chances.
Tall and middle height are women bearing twins, very rare cases are short women yet anything is possible.
Such woman must free herself from birth defection ( medical specialists now recommend taking folic acid)
She must not deprive herself of vitamin and blood tonic even from natural sources.
I just hope those advices will aid the miracle. Take them to your specialist before putting them into practice.
I'm GodKnows.
---
---

SHARE THIS NOW!
---